Fingers and Toes Case Studies
These studies were designed to determine the efficacy of InterDry® used in place of the standard treatments.
Fingers and Toes Case Study 111
Patient description: 69-year-old paraplegic male with severe peripheral arterial disease and known occlusion of the aortoiliac junction.
InterDry® protocol: A one-inch strip of InterDry was woven between his toes and changed daily following bathing.
Day 1
Presented with maceration between his toes.
Outcome: Day 3
Resolution of maceration.
Fingers and Toes Case Study 29
Patient description: 52-year-old morbidly obese male presented with severe lymphedema of the lower extremities.
Past treatment: Over the counter antifungal powder.
InterDry protocol: Apply the silver coated fabric over the affected area and leave it in place. He was allowed to remove the fabric for the duration of her shower.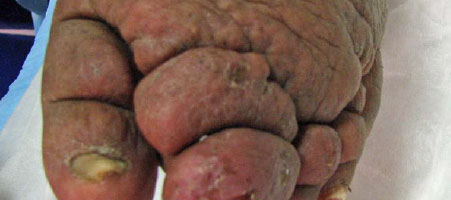 Day 1
Skin macerated with foul smelling drainage suggestive of cutaneous candidiasis.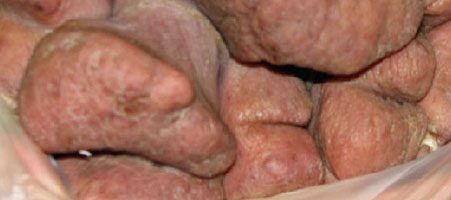 Outcome: Day 5
Skin with significant less drainage and odor.